Quality and Safety

Safety and life come first before anything.
Efforts to prevent traffic and work accidents.
Safety Measures
The Kanda Group is making active efforts to prevent traffic and work accidents.
A quality and safety management office is established in KANDA HOLDINGS Co., Ltd that oversees the Kanda Group, and various training sessions for the prevention of accidents and disasters are provided at our education and training venue in Ashikaga City in Tochigi Prefecture to raise safety awareness among employees.
In addition, we have a program to train our own certified safety advisors (onboard instructors). Managers who have completed professional trainings, including practical skills, are certified as safety advisers, and accompany the driver to provide instructions mainly on driving techniques and driving manners. We also hold contests hoping that these efforts will be effective in preventing future accidents.
The frequent occurrence of serious truck accidents has recently become a social issue. While appropriate management of operation has become an urgent task for the land transportation industry, the Kanda Group ensures that operation managers are properly allocated, and face-to-face roll-calls are implemented. In addition, under the slogan of "never drink and drive", we have developed an alcohol check system for all drivers in the Kanda Group who are behind the wheel.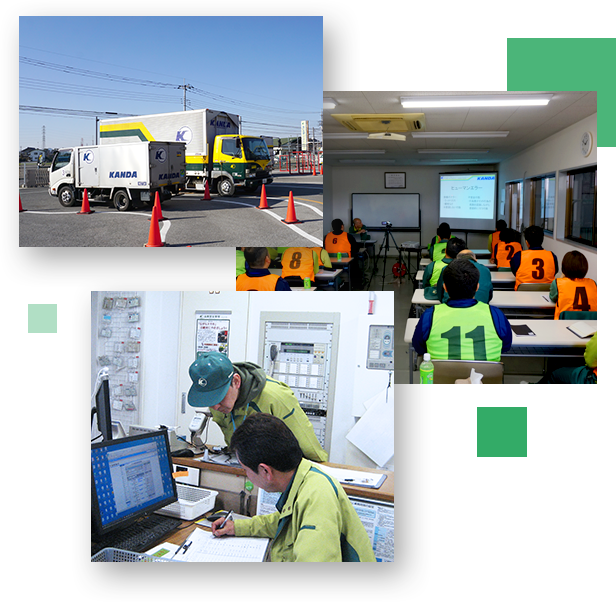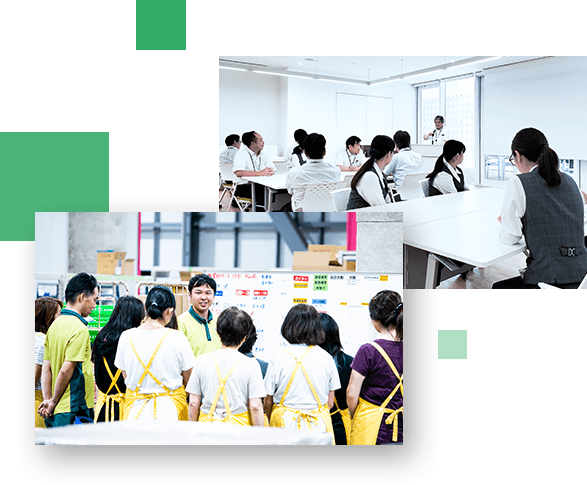 Dash 21
"Dash 21" all-hands activity in small groups
Since 1995, the Kanda Group is implementing an all-hands activity called "Dash 21", in which employees form small groups to work for quality improvement.
5S Activity
The target of the 5S Methodology (Sort, Set, Shine, Standardize, and Sustain) is to develop a comfortable and safe work environment. Thorough implementation of 5S at the workplace will contribute to the improvement of efficiency and quality. The Kanda Group has designated the 10th of each month as a day to check the 5S, and this activity is carried out in every office.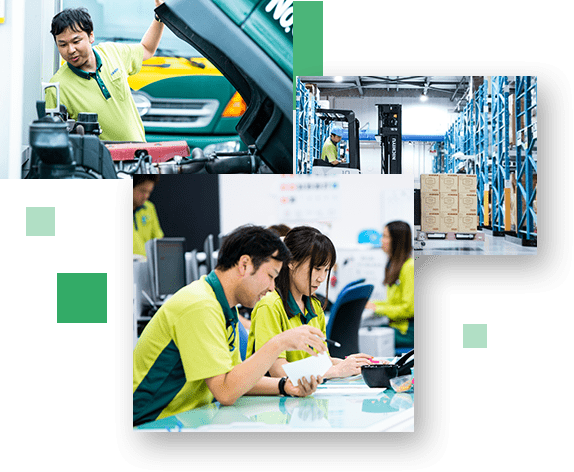 Sort and Set

To sort through items and to remove unnecessary items. Arranging necessary items in the optimal place will increase the ease of use.

Creates additional space in the workplace and will eliminate time and energy looking for something.
Reduces tripping and falling hazards, and develops a safe work environment.
Can reduce stock and lead to cost saving.

Shine

To sweep and clean the workplace to remove waste and dust.

Develops a bright and clean work environment.
Maintains and improves performance of machinery and equipment, and also improves ease of inspection.

Standardize

To maintain the process of "sort, set, and shine", and to be mindful of the condition.

Improves quality and reduces defective products.

Sustain

To be accustomed to abiding by the rules and taking proper actions.

Increases communication opportunities that will improve human relations and morale of the workplace.
Develops an activated workplace that will lead to a better mental state and less careless behavior.