Environmental activities

We take environmental problems seriously and actively work on various activities
Environmental activities
The Kanda Group seeks to be a corporate group that is always interested in our irreplaceable earth while fulfilling our important mission of transporting goods for daily living, based on our management philosophy of contributing to social development via logistics.
The Kanda Group has so far rolled out natural gas vehicles (NGV) and hybrid cars to aim for environment-friendly operations. For the next vehicles for environmental measures, although tentatively, we have decided to add electric vehicles (five vans and two 2-ton trucks).
Electric vehicles do not generate emission gas when they are running. However, to use them for our transport business, we face realistic challenges with short range, expensive vehicle price, insufficient infrastructures of electric charging, and smaller cargo capacity. Looking into future development of electric vehicles, the Kanda Group will start operating from small-lot transports within short distances, and verify its practicality as the next vehicles for environmental measures.
Meanwhile, in metropolitan areas of Tokyo and Osaka, regulations regarding nitrogen oxide NOx and particle matter PM for diesel trucks came into force. Kanda Group's vehicles are in accordance with regulations in each area.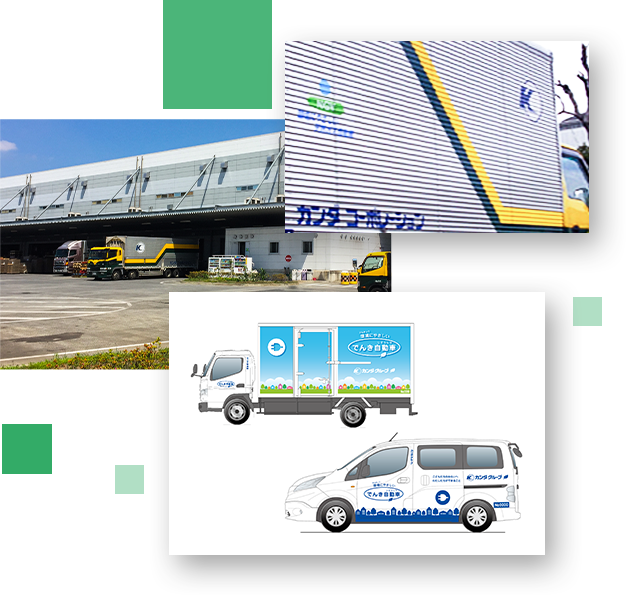 Eco-friendly driving activities
For taking action in relation to the prevention measures for global warming, we are participating in the "Green Eco Project", launched by the Tokyo Trucking Association.
We work on ECO driving, which is also good for safety, and it involves avoiding idling, sudden starting and quick acceleration.
The revised Energy Conservation Act (Law regarding rationalization of energy use: enforced from April 1, 2006) obliges transportation business operators to work on energy saving as a measure related to cargo transport.
Kanda Corporation, a group company, drew up policies to work on energy saving as one of the transportation business operators designated by Minister of Land, Infrastructure and Transportation in July 2006, and submitted to the Minister a medium- to long-term plan featuring the establishment of a promotion structure, promotion of eco driving, as well as promotion of introducing fuel-efficient vehicles.
Also, we submit regular reports to Minister of Land, Infrastructure and Transportation regarding energy consumption through light oil and gasoline, as well as carbon dioxide emissions associated with energy usage.